PSC Mark

Mandatory Consumer Safety Approval
Request a Quote
Contact Information & Shipping Address for Samples
Please contact us by e-mail for a detailed service quotation.
PSC Certification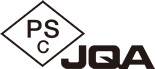 Applying for PSC Certification
Only applications from Japan-based applicants who have already submitted a "Notification of Business Commencement" to METI/METI's local office can be processed. (Notifications of Business Commencement must be submitted prior to applying for conformity assessment.)
Applicants may select PSC Type Certification (includes factory inspections) or PSC Batch Certification (valid only for the batch inspected).
Requested Materials:
JQA Application Form
Consumer Product Safety Act Application
Type Classification Table
Outline of Construction, Materials, and Performance
User Manual
Circuit diagram(s) and schematic layout
Copy of Notification to Commence Business (as submitted to METI)
Copy of proof of liability insurance (as submitted to METI)
Power of Attorney (if applying through a third-party)
Additional materials for PSC Type Certification:
Inspection Equipment List
Factory Inspection Questionnaire
Map to the factory location
3 sample units (for PSC Batch Certification, sample size depends on batch size)