Consumer Safety (PSC Mark)

(Mandatory Approvals in Japan)
PSC Certification of Portable Laser Devices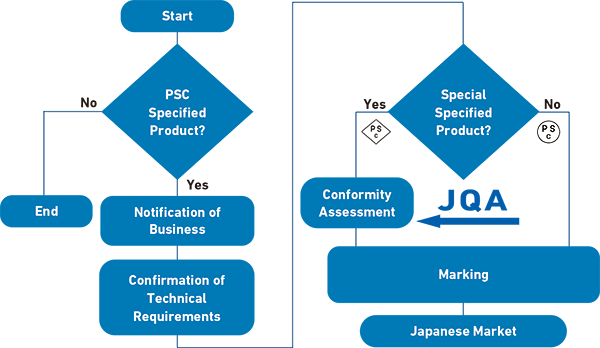 Product & Applicant Eligibility
Portable laser devices which emit laser light (limited to visible light) and which are designed to display letters or images require PSC Certification.
Products like laser pointers and laser infrared thermometers are included in this scope.
Projectors using laser backlights or laser scanning technologies, retina scanning displays, and other such devices that utilize laser beams are also subject to PSC Certification provided they are portable.
For applicants, only local Japanese companies that have completed their PSC Business Notification to METI are eligible to be certificate holders for PSC Certification.
If an overseas manufacturer requires the diamond PSC mark on their product, they are advised to apply via their actual importer.
Products can be certified by PSC Type Certification (including factory inspections) or by PSC Batch Certification.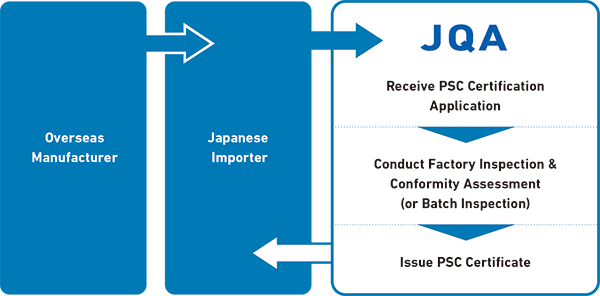 Technical Requirements for Portable Laser Devices
Portable laser devices must meet the following requirements.
1. Laser Class Requirements
Any product which allows users to confirm a laser beam is being emitted, excluding the following:
Products that are clearly toys
Products that involve prolonged ocular exposure to a laser beam
Products for indicating locations and objects, etc., with a total product length of under 8cm

Class 1 or Class 2
as defined in JIS C6802 (2014)
All other portable laser devices

Class 1
as defined in JIS C6802 (2014)
Emission duration must meet the requirements specified in Clause 4.3, Item e), Item 3
2. Output Power Stabilization Requirements
Portable laser devices must have an output power stabilization circuit.
3. Emission Duration Requirements
Products which are clearly toys, or products for indicating locations and objects must not allow for continuous laser beam emission (excluding continuous hand-operated emission).
Other products may allow for continuous emission with appropriate safety measures.
4. Marking Requirements
The name of the Notifying Supplier and the Registered Conformity Assessment Body must be displayed on the product along with required cautions for use.
Example label:
(English translation for reference only – actual labels must be in Japanese)

Note: Required cautions for use depend on the product. The above example is for a laser product that is not a toy, not intended for prolonged ocular exposure, and not used in a camera.