S-JQA Mark Certification

(Certification Services)
S-JQA Mark Certification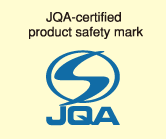 S-JQA Mark Certification (JQA Product Safety Certification Scheme) is a third-party certification scheme for electrical and electronic products.
All domestic and overseas businesses that manufacturer, sell, or import electrical and electronic products or components are eligible to apply.
S-JQA Mark Certification is operated by JQA, but it is one of the S-mark schemes administered by the Steering Council of Safety Certification for Electrical and Electronic Appliances and Parts of Japan (SCEA).
Conformity assessment pursuant to the requirements of the DENAN Law is conducted for S-JQA Mark Certification.
As a third-party certification, the S-JQA Mark can be supplementary to the self-verification required of businesses by the DENAN Law.
Conformity asseessment is conducted for each product model and the quality management system of the product's factories are verified through annual inspections.
Certification Scope
In addition to low-voltage electrical and electronic products, the certification scope also includes materials, components, and subassemblies such as built-in power supply units.
What are the Benefits?
As an independent body, JQA can offer objective proof that your product conforms to safety standards and meets consumer's product safety expectations.
Certificate holders can discover points for improvement and ways to enhance their quality management systems through JQA's factory inspections.
By displaying the S-JQA mark, certificate holders can boost consumer appeal by demonstrating their company is committed to product safety.