Product & Applicant Eligibility
Virtually all electrical products are eligible for S-JQA Certification. In addition to low-voltage electrical and electronic products, the certification scope also includes materials, components, and subassemblies, such as built-in power supply units.
Overseas manufacturers are eligible to be registration holders. A local representative in Japan is not needed.
S-JQA Certification Services
The S-JQA application process includes conformity assessment testing along with an initial factory inspection, an initial lot inspection, and annual follow-up inspections.
JQA is able to accept outside data from authorized partners or registered manufacturer's labs. See the "Lab Registration" tab above for details about becoming an S-JQA Registered Lab.
Factory inspections can be conducted by JQA, or by one of our partners in China (CQC), Taiwan (ETC), Malaysia (SIRIM), Korea (KTL), Singapore (TUV SUD PSB), Brazil (Falcão Bauer), Argentina (IRAM), or Germany (VDE), depending on factory location.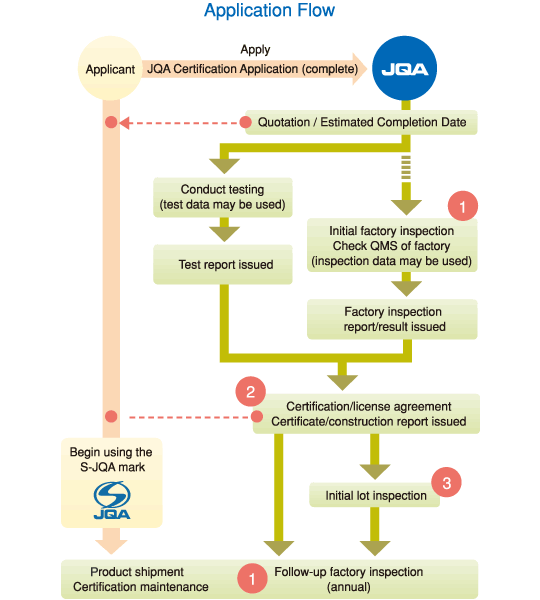 Factory Inspections (Initial/Follow-up/Special Inspections)


There are 3 types of factory inspections in the S-JQA Certification scheme.

Initial Factory Inspection


An initial factory inspection is conducted to ensure the manufacturing facility is capable of reliably manufacturing the product to be certified. The initial factory inspection is conducted whenever an application is submitted for a new factory in any product category.

Follow-up Factory Inspections


Following approval for certification, annual follow-up factory inspections will be conducted. Follow-up factory inspections are conducted to verify the same product is being manufactured and that there have been no changes to the manufacturing process.

Special Factory Inspections


Special factory inspections are only conducted if a major non-conformity is found during the follow-up factory inspection, or if a major problem arises related to the product in the marketplace.

Certification / License Contracts


After successfully completing product testing and the initial factory inspection, a contract between JQA and the certificate holder covering the conditions for use of the S-JQA mark is concluded for each product category.

Initial Lot Inspection


An inspector will visit the factory when the first lot of an S-JQA mark certified product is manufactured and prepared for shipment. Inspectors will verify that the products in the initial shipment have the same specifications as those certified and confirm all S-JQA rules are being followed.
Applicable Standards
S-mark certification is intended to supplement the PSE law by offering voluntary third-party certification for products not subject to mandatory certification.
Accordingly, the technical standards of the PSE Law are applied to products that fall within the PSE Law's scope. See the PSE mark page from the menu on the left for more details about the PSE Law's scope and technical requirements.
For products outside the scope of the PSE Law, JQA will apply JIS, IEC, or other standards, as relevant.